PROCEDURE FOR RELEASING FAMILY PENSION IN CASE OF MISSING PENSIONER: PCDA (P) CIRCULAR NO. 221 (Click the link below to view)
https://pcdapension.nic.in/pcda/6cpc/Circular-221.pdf
**************************************
UNION MINISTER ASHWINI VAISHNAW GREETS UNIVERSAL POSTAL UNION AND POSTAL FAMILY ON WORLD POSTAL DAY
Ministry of Communications
UNION MINISTER ASHWINI VAISHNAW GREETS UNIVERSAL POSTAL UNION AND POSTAL FAMILY ON WORLD POSTAL DAY

LEVERAGE GIVEN BY TOUGH TIMES WILL GUIDE INDIA POST POSITIVELY IN YEARS TO COME: Postal Secretary
Shri Vineet Pandey
Posted On: 09 OCT 2021 3:47PM by PIB Delhi
World Post Day is celebrated each year on 9th of October to mark the anniversary of establishment of the Universal Postal Union in 1874. India has been a member of the Universal Postal Union since 1876. The purpose of World Post Day is to create awareness about the role of postal sector in the lives of people and businesses as well as contribution to the socio-economic development of countries. The theme for this year's World Post Day is 'Innovate to recover'.On the occasion of World Post Day, we remember the invaluable contributions of postal workers in ensuring public service delivery during the trying times of Covid pandemic.
To quote Mr. António Guterres, Secretary General of the United Nations-"The vast postal network – involving millions of workers moving billions of pieces of mail through hundreds of thousands of post offices – is woven into our societies, connecting communities the world over"
With more than 1.5 lakh IT enabled Post Offices, India Post played a crucial role in rendering postal and financial services during the pandemic lockdown in 2020 and in 2021. The robust IT system enabled India Post to deliver financial services at the doorsteps of citizens.
The vast postal network has been further strengthened through the launch of India Post Payments Bank in 2018,with a vision to build the most accessible, affordable and trusted bank for the common man.
On the occasion of World Postal Day, Shri Ashwini Vaishnaw, Minister of Electronics & Information Technology, greeted the Universal Postal Union and Postal in a tweet. He also mentioned about the social contribution of India Postal Department.
Shri Vineet Pandey, Secretary (Posts) in his message on the eve of World Post Day has highlighted that the "Post Offices have become more relevant than ever before and the leverage given by the tough times will guide India Post positively in the years to come"
**************************************
INDIA POST CELEBRATES BANKING DAY AS PART OF AZADI KA AMRIT MAHOTSAV
Ministry of Communications
India Post celebrates Banking Day as part of Azadi ka Amrit Mahotsav





MoS Shri Devusinh Chauhan releases special cover on Muga Silk





Department organises Financial Inclusion (FI) Melas to create financial awareness and promote Financial Inclusion
Posted On: 11 OCT 2021 6:17PM by PIB Delhi
Department of Posts, Ministry of Communications,celebrated today the Banking Day as part of the National Postal Week and Azadika Amrit Mahotsav (AKAM) celebrations.
In presence of Shri Devusinh Chauhan, Minister of State for communications, Assam Postal Circle released today a special cover on Muga silk GI TAG . On account of banking day 5 numbers of SSA pass book were handed over to Girl child accompanied by their parents. An encouragement speech regarding achievement, performance and commitment etc. of Postal Department was delivered by the Honorable Minister . The dias was also shared by Director IITG and Scientists patent Department.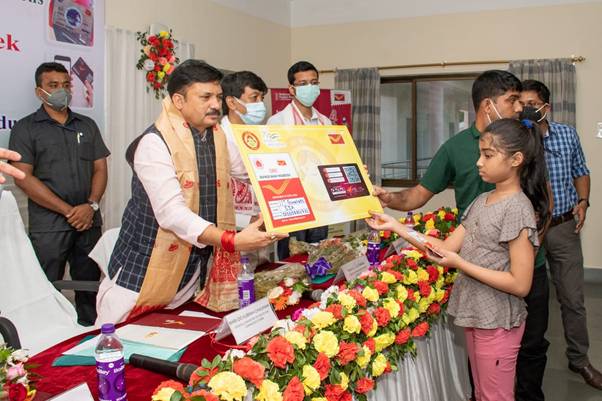 The department celebrate the National Postal Week in the month of October, starting with the World Post Day on 9th October. Further, Ministry of Culture has allocated the week from 11th to 17th October, 2021 to Department of Posts for celebration of Azadi ka Amrit Mahotsav (AKAM). Banking Day is being celebrated on 11th October, 2021.
The Department operate 9 Small Savings Schemes through 1.57 lakh post offices spread across the country. Schemes under Prime Minister Jan Suraksha Yojana are also available in the post offices. Department has played a significant role in promotion of SukanyaSamriddhiYojana Accounts (SSA) under BetiBachaoBetiPadhaoAbhiyaan for empowerment of girl children. More than 2.2 Cr SSA Accounts have been opened in the post offices since the scheme was launched in January, 2015.
In order to further the digital financial inclusion, India Post Payments Bank (IPPB) was launched on 1st September, 2018 by the Prime Minister. It fulfils the Government's objective of having an interoperable banking access point within 5 km of any household. IPPB offers various financial and non-financial services like Aadhaar enabled Payment System (AePS) Services through Doorstep Banking, Digital Savings Account, Digital Life Certificate (JeevanPramaan) at doorstep.
This year, the Department is celebrating theAzadikaAmritMahotsav by organizing Financial Inclusion (FI) Melas in all the districts in order to create financial awareness and promote Financial Inclusion. The main theme for Banking Day is promotion of SukanyaSamriddhiYojana. Also, various IPPB services shall be promoted through these Melas.
Azadi Ka Amrit Mahotsav: Celebrating 75 Years of India's Independence documentary will be shown during the Mela. Videos on India's freedom struggle will also be displayed during the Mela. Small Savings Schemes and services available through post offices including services of IPPB will be explained to the people during the Mela through audio visuals. Top performers in the area of small savings and IPPB will also be recognised on the Banking Day.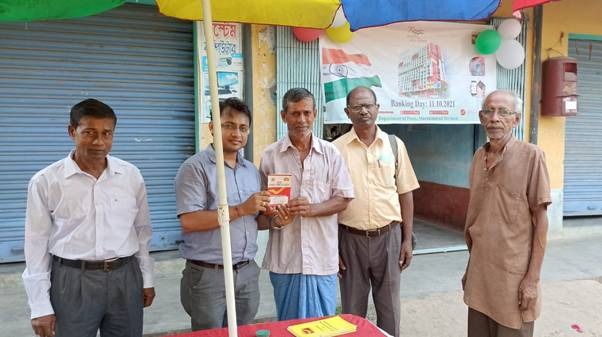 Banking Day observation at Satui SO under Murshidabad Central Sub Division, West Bengal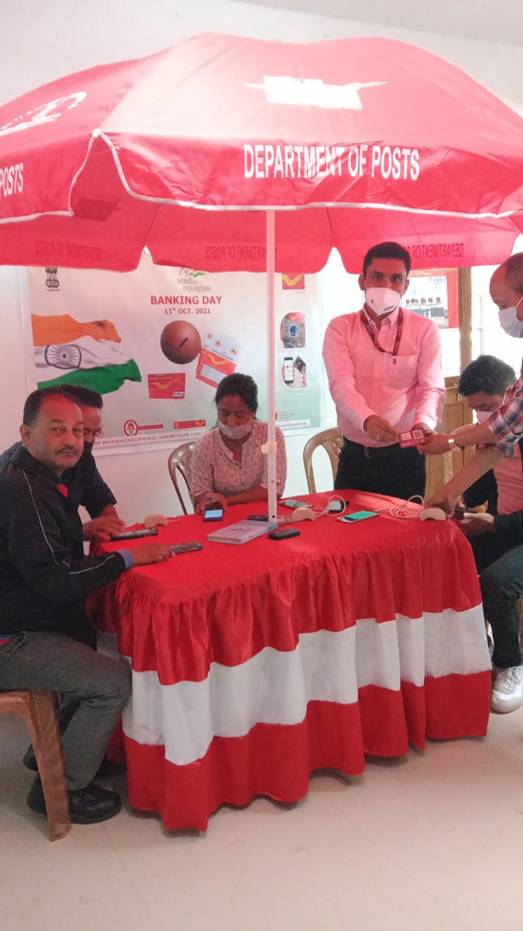 Gangtok HO, Under Sikkim State